The people of Sakagura(brewer)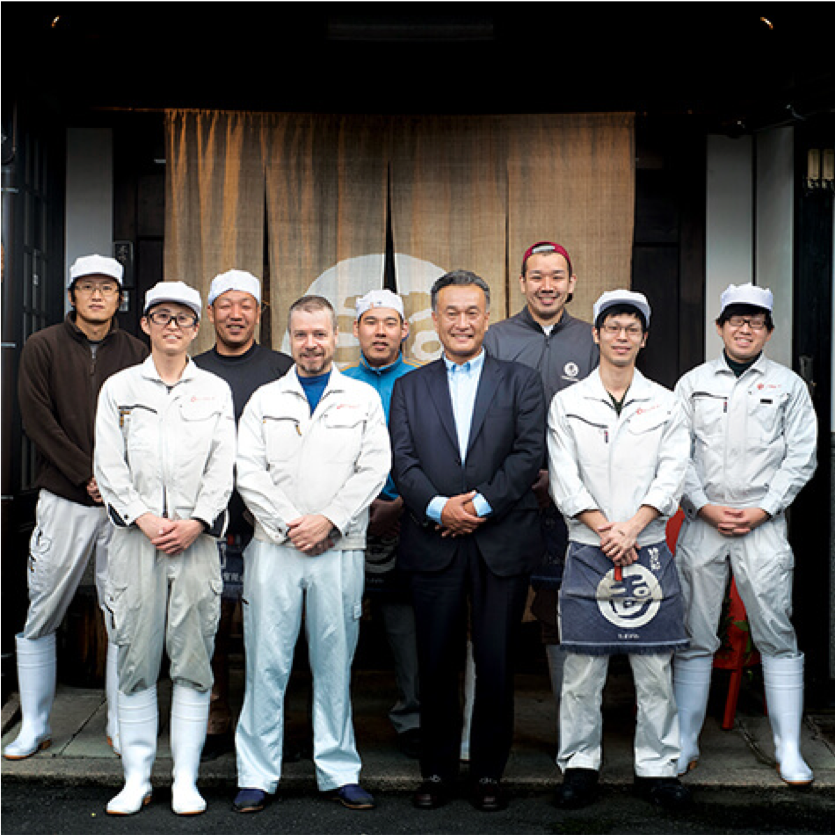 Kuramoto and Kurabito,Toji
Kuramoto, Kurabito and Toji are names for brewing workers. Kuramoto is the owner of the brewery and Kuramoto is often the brewer, Kurabito is the name for workers at the brewery, Toji is the general manager who is responsible for the overall production of the brewing.
Toji-system
Toji-system was developed in the Edo period, when a method called "Kan-dukuri" was used to produce all during winter for yearly consumption amount.
A long time ago, farmers had no job from autumn when rice cultivation was over, to early spring so there were people who worked in sake breweries as migrant worker. Among them, the person who excels in Sake brewing was chosen by kuramoto, and designated as Toji.
Toji's brewing technique was sent to various places in Japan and created a various "Ryuha" (Toji-way) in there.
Nowadays,the number of migrant workers from rural areas has decreased, and active Toji's are getting older, so in some cases Kuramoto himself has become Toji and in other case an employee is trained to be Toji.
Traditional"Ryuha" is still handed down, and famous ones are known as"Tamba-toji", "Echigo-toji", and "Nanbu-toji", depending on the region where Toji is from.
We usually think that there are three-major-toji groups. We call this Sandai-toji but another group is sometimes added Noto-toji, making four-majr-toji groups. it's called Yondai-toji.
Characteristics of each "Ryuha"
Tamba-toji
Tamba-toji is famous for their work in Nadagogo (around Kobe city in Hyogo pref.). Their product one suitable for rural areas using hard water such as water for brewing koji. Slightly rough at the time of the new Sake, but the quality of the liquor is improved by aging for about half a year until autumn.
Echigo-toji
A clean and mild sake that takes advantage of the soft water and coldness of the Echigo region (Nigata pref.). The texture is fine, clean and elegant.
Nanbu-toji
Corresponding to the cold Nanbu region (around Morioka city in Iwate pref.) and hard-quality rice,soft water, ferment at low temperature for a long time. Although it is a fragrant and fresh and smooth, aging until the beginning of autumn brings together the taste, aroma and taste.
Noto-toji
Rich taste and aromatic aroma. Their strength is in brewing Ginjo-shu. ※ Noto is a peninsula at Ishikawa pref.